Homemade Halloween Candy Recipes
Halloween season is here which often means being surrounded by more tempting sweets than usual. Here are a few healthier recipes for your favorite candy! Remember though, it's perfectly fine to enjoy some of the name brand candies in moderation, but now you have these healthier options to add to your recipes!
Peanut Butter Cups
Ingredients: 
 1 (3.5 ounce) 85% dark chocolate bar, dairy free if desired

1⁄2 cup creamy natural peanut butter 

1⁄2 tablespoon pure maple syrup 

1⁄2 tablespoon coconut flour 

Pinch of salt, if your peanut butter isn't already salted, fancy sea salt, for sprinkling on top  
Directions:
Line a mini muffin pan with 9 mini liners. We're only making half, but if you want you can double the recipe to make 18 mini cups.  
Now it's time to melt the chocolate: Place 1.75 ounces of dark chocolate into a microwave safe bowl and microwave in 30 second increments until chocolate is melted. You can also melt the chocolate in a medium saucepan over low heat; stirring frequently.  
Once chocolate is melted, add 1 teaspoon to the bottom of each cup (about 1 heaping teaspoon). Use the spoon to push/spread the chocolate all the way up sides of each liner, you should use exactly the amount of chocolate that you melted.  
Once you've filled all the cups, place the pan in freezer for just a few minutes to harden the chocolate.  
Make the peanut butter cup filling: Add peanut butter, maple syrup and coconut flour to a medium bowl and mix until smooth, place 1⁄2 tablespoon of the mixture in each cup on top of the chocolate. It should fill pretty much to the top.  
Place back in the freezer while you melt the remaining chocolate bar in the microwave (or on the stovetop) as you did with the previous bar.  
Spoon about 1 teaspoon on top of the peanut butter, making sure you cover all of the peanut butter filling. Freeze for 5-10 minutes until chocolate is solid.  
Once cups are firm, you can store them in the fridge or freezer until ready to eat. Makes 9 mini peanut butter cups.  
Recipe Source: https://www.ambitiouskitchen.com/homemade-healthy-peanut-butter-cups/  
Almond Joy
Ingredients: 
1 ½  cups unsweetened coconut chips or shreds 

¼ cup coconut oil, solid or melted 

2 tablespoons pure maple syrup 

Chocolate Dip Layer 

Chocolate Drizzle
Directions:
Line an 8-inch or 9-inch loaf pan with parchment paper or wax paper. Set aside for later. 
Make the Coconut Bars: Add all Coconut Bars ingredients to a food processor: coconut, coconut oil and maple syrup. Blend until you get a wet and sticky mixture, with smaller, but still noticeable coconut pieces. 
Pour coconut mixture into the prepared loaf pan. Using a rubber spatula, press down and smooth until you get a tightly packed, even layer. Freeze for 15-20 minutes. 
Remove from freezer. Lift the coconut bars out of the loaf pan. Cut into 16 rectangular bars. Line a baking sheet with wax paper or parchment. Lay these bars on the sheet, evenly spaced apart. Place back into the freezer while you prepare the chocolate layer. 
Make the Chocolate Dip Layer: Use the double boiler method, or do the following. In a medium, microwave-safe bowl, add the Chocolate Dip Layer ingredients: ½ cup vegan chocolate chips and 1 teaspoon coconut oil. Heat in 20-second increments until just slightly softened and melted. Stir until smooth. 
Remove coconut bars from the freezer. Dip the bottom of one coconut bar into the bowl of melted chocolate, creating a thin coating. Use the side of the bowl to scrape off excess chocolate. Place back onto the baking sheet. Repeat until all coconut bars have been coated. 
Dip one side of an almond in the melted chocolate and press into half the surface of one bar, leaving room for another almond. Dip another almond in chocolate and press into the remaining surface of the bar. Repeat for all bars. Place baking sheet back into the freezer while you make the chocolate drizzle. 
Make the chocolate drizzle: Add the Chocolate Drizzle ingredients to the bowl of leftover melted chocolate: 2 tablespoons chocolate chips and 1/4 teaspoon coconut oil. Heat in the microwave in 20-second increments until just softened. Stir until smooth. 
Using a rubber spatula, scrape melted chocolate into a plastic zip bag with a very small tip cut off, or a small piping bag fitted with a very fine tip. Holding the bag over one candy bar, pipe the chocolate in a zigzag motion, starting from one end of the bar and finishing at the other. Repeat for all bars. 
Place baking sheet into the freezer for 10-15 minutes. Thaw for 10-15 minutes before serving. Enjoy!  
Recipe Source: https://beamingbaker.com/paleo-almond-joy-vegan-gluten-free-dairy-free/#tasty-recipes-21316-jump-target 
ButterFingers
Ingredients: 
Directions:
Warm the honey and nut butter over medium/low heat in a small sauce pan. 
Mix well until well combined (only about 1-2 minutes). 
Pour into medium bowl then mix in the brown rice cereal and mix to fully combine. 
Add mixture to fridge for about 15 minutes to firm a bit. 
Begin melting chocolate in microwave or stovetop. 
Form the butterfingers by taking about 2 spoonfuls into your hand and form into a bar shape and add to baking sheet lined with parchment paper and repeat for rest mixture. 
Add to fridge to set for another 10-15 minutes. 
Dip each into melted chocolate (I use a fork and spoon). 
Add to baking sheet and allow them to set a bit in the fridge or freezer. 
Store these in the fridge for up to a week or freezer for longer 
Recipe Source: https://rachlmansfield.com/copycat-vegan-butterfingers/#jump-to-recipe 
If you really want to go the extra mile, try these spooky strawberries!
Chocolate Covered Strawberries (Halloween style) 
Ingredients:
 ½ cup dark chocolate melting wafers 

 ½ cup white chocolate melting wafers 

 16 ounces fresh strawberries, rinsed and dry (16 oz = about 12 large) 
Directions:
Rinse and dry your strawberries and add chocolate melting wafers to two separate microwave-safe bowls. 
One at a time, melt the white chocolate and dark chocolate in the microwave. Start with 30 seconds and stir. If need be, continue to heat in 15-second intervals, stirring in between, until completely melted. 
Holding the strawberries at the very top by the stems, carefully dunk the strawberries in the melted chocolate, rotating slowly to ensure it is fully coated. Cover about 1/3 of the strawberries in dark chocolate and the rest in white chocolate, and line them up on a baking sheet lined with parchment paper or a reusable baking mat. 
Decoration: 
Allow the chocolate-covered strawberries to set for about 10 minutes before adding your Halloween decorations. 
 
Once your chocolate is set on the strawberries, check your bowls of melted chocolate to see if it's starting to thicken. If so, microwave again for about 15 seconds to loosen. 
 
Transfer the remaining white chocolate to a piping bag. Grab a toothpick to decorate with melted dark chocolate. Allow the decorated strawberries to set completely before enjoying (about 10 minutes). 
Recipe Source: https://marleysmenu.com/halloween-chocolate-covered-strawberries/  
---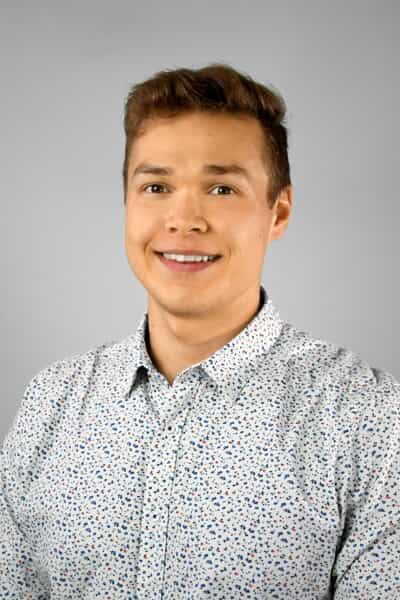 ​
Aleksandr Gavrilov, Registered Dietitian Nutritionist at the Excela Health Well-Being Center