Colon Cancer Screening Saves Lives
Colorectal cancer – cancer of the colon or rectum – is the third most common cancer in both men and women in the United States and currently ranks as the second most common cause of death due to cancer. The good news is that colorectal cancer, unlike many cancers, is largely preventable and often curable when caught early.
With the incidence of colon cancer occurring at a younger age, guidelines for colon cancer screening have been modified to start at age 45 and through age 75. The decision to screen patients from the age of 75-80 is done on an individual basis. Patients with certain risk factors may need to start screening earlier or complete screening more frequently.
Benefits of Screening
Detection of precancerous growths. When found early, these growths, known as polyps, can be removed before developing into cancer, preventing the disease from ever occurring.
Detection of early stage colon cancer. When colon cancer is caught early, when it is most treatable, the five-year survival rate is over 90 percent.
Detection of other conditions that can cause symptoms similar to colon cancer. Early detection and treatment of these conditions, such as inflammatory bowel disease or diverticulitis, can improve quality of life and prevent complications.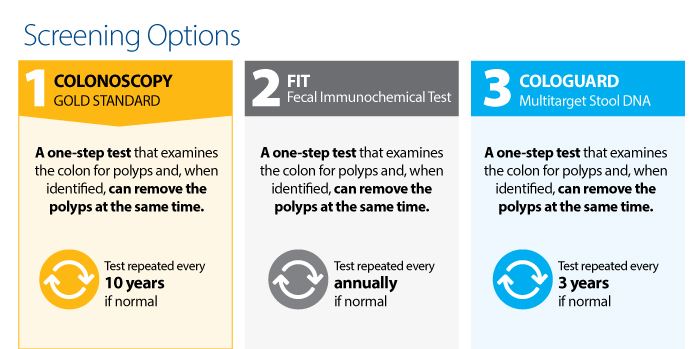 Screening Tests
Colonoscopy: This is considered the gold standard for colon cancer screening and remains the most effective means to prevent the development of colon cancer. During a colonoscopy, a doctor uses a long, flexible tube with a camera to examine the entire colon and rectum. If any polyps are found, they can be removed during the procedure. If normal, the test is repeated every 10 years.
Fecal immunochemical test (FIT): This is a stool test that checks for hidden blood in the stool, which can be a sign of colon cancer. It is a non-invasive test that can be done at home.
Stool DNA test (Cologuard): This is a newer type of stool test that looks for DNA changes in the stool that can be a sign of colon cancer. Cologuard does not help to remove colon polyps, this can only done during a colonoscopy. Patients who are found to have a positive Cologuard test are required to have a colonoscopy to confirm the presence of colon cancer and remove any identified polyps.
Overall, colon cancer screening is an effective way to prevent and detect colon cancer early, which can significantly improve outcomes and save lives.
Contact your primary care provider about scheduling a colonoscopy. Click here to find a provider.