Baseline Impact® Testing- What It Is, Who Needs It and Why It Is Important
Category: Blog
Posted On:
What is Baseline ImPACT® testing?
Baseline ImPACT® testing is an important tool in the prevention of concussive consequences for our youth. ImPACT® stands for Immediate Post-Concussion Assessment and Cognitive Testing. It is a computerized test that measures memory, attention span, visual and verbal problem-solving. ImPACT® has two primary uses: before the onset of an activity, a baseline test is conducted to measure the athlete's performance baseline. In the event of an injury, a post-injury test is administered and compared to the baseline and/or normative data scores.
Who needs a baseline ImPACT® test?
Athletes partaking in any sports involving the risk of a concussion. Additionally, anyone who has suffered brain trauma, whether from a sports injury, car accident, fall, or other trauma, may be advised to undergo ImPACT® testing.
Why is it important?
We now know that injury to a brain that has not fully recovered from prior concussive injury can prolong recovery, and possibly lead to devastating short-term, or lingering long-term issues. Unfortunately, there is no way to conclusively know when the brain is fully back to baseline and return to play is safe. Having a baseline ImPACT® neuro-cognitive test can aid in making the right decision.
How do I receive one?
Excela Health is offering baseline ImPACT® testing for kids 10-18 years of age in the office or via telehealth for $25 between the dates of June 6 and August 5. Kids age 5-9 can be tested in the office for the same fee. Every test will be checked for validity by one of our experts, and results will be discussed with the athlete and/or parent. Contact us at 724-689-1070 to schedule a test.
Excela Health Center for Concussion Care: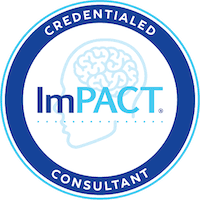 ImPACT® is not a stand-alone test in determining concussion recovery or return to play. Excela Health does offer comprehensive, state-of-the-art concussion evaluation and management. Having a valid baseline ImPACT® test is a first step in keeping our athletes safe, and Excela Health is pleased to be able to offer this testing for our youth.