Being Open with Your Health Care Provider
Coming out to your health care provider is an important step to being healthy. Many people are not aware that lesbian, gay, bisexual and transgender (LGBT) people face unique health risks, such as higher smoking rates, a greater risk of suicide attempts, and a higher chance of getting certain sexually transmitted diseases. Talking with your provider can help you overcome these issues and access the care you need most.
Being open about your sexual orientation, sexual behavior, and gender identity not only helps your provider, it helps you! To receive the best care possible from physicians and other healthcare professionals you should be open and honest about your sexuality and/or gender identity. By being open with your physician, they can in turn provide you with resources and a more tailored healthcare experience.
Healthcare Challenges the LGBTQ+ Community Face
The LGBT community often experiences prejudice, stereotyping, and harassment or bullying by others. This kind of discrimination can be very stressful, which can put you at risk for depression, anxiety, substance abuse, feelings of loneliness, and even suicide. Being open not only about your sexual orientation and gender identity, but also about any substance use or mental health needs, allows your provider to give you the best possible care. Exercise and healthy eating are important components of wellness for everyone. Physical health plays an important role in feeling emotionally healthy, too! Research has shown that those members of the LGBT community are more likely to smoke, lesbians are at higher risk for obesity, and some gay men struggle with poor body image. If you discuss these issues with your healthcare providers, they can advise you on healthy diets and self-image, smoking cessation, and exercise routines. Lesbians, bisexual women, and some transgender people should also make sure they are getting routine gynecologic screenings, including Pap smears, and routine breast cancer screening.
Coming Out to Your Physician
According to research only 16 percent of LGBTQ+ patients choose to inform their physician of their sexual orientation. There are several ways to find a provider you connect with. To start, you can talk to friends about who they are comfortable seeing. If you are nervous about coming out to your physician, call before making an appointment and ask if the provider has experience with treating members of the LGBTQ+ community. You don't have to give your name! You can ask to have a conversation before the exam begins if this makes you feel more comfortable. You may feel more comfortable having a friend or family member with you for the initial visit, and for the conversation about your sexuality and/or gender identity. It is ok to let them know what terms and pronouns you use to describe yourself and your partner(s), and they should start to use those words.
Health care is about the whole person. By being open with your provider, you allow him/ her to provide you with comprehensive care that supports your mind, body and spirit.
---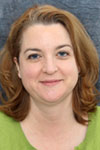 Suzanne Putnam, MD
Excela Health Family Medicine